Using Booths for Restaurant Seating
Using Booths for Restaurant Seating - 1-866-732-8123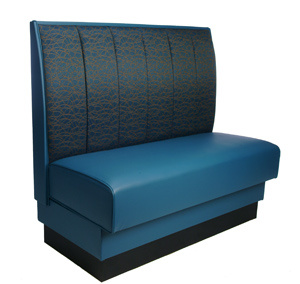 When you own or manage a restaurant space will be a hot commodity. Everyone wants more space in their eatery but the square footage will decide just how much room you have to work with and if you are still looking for ways to maximize the space in your restaurant, consider using high quality restaurant booths from Seating Expert. Featuring an amazing selection of classic and modern booths, we aim to give restaurant managers the option to seat patrons comfortably and conserve their floor space. From solid wood booths to fully upholstered booths with quilted tuft back rests you'll find every kind of commercial booth imaginable and can get great wholesale prices.
Casual & Comfortable
Restaurant booths give you the option to seat your patrons comfortably on casual commercial seating that is durable and stylish. With bar stools and chairs there's always the hassle of people moving chairs and stools on their own and disrupting your seating plan. With solid commercial booths you take away this option but still leave customers with a great seating option that is both comfortable and casual. Great for high end restaurants that aren't too formal, our tufted back booths make for great seating options. Available in single (23") and double (43") depths with a great selection of vinyl and fabric upholstering options you can use this booth for all tables that are near a wall. Seat vinyl color options include Aqua Green, Golden Rod, Imperial Blue and Red Velvet.
Many Styles to Choose From
What makes Seating Expert so popular among restaurant managers and owners is the wide selection of styles we offer. We know everyone wants their restaurant theme to be unique so we carry a variety of booths that can be used in casual and formal settings and fit perfectly. From solid wood upholstered booths and twelve channel wood panel booths to round back tufted booths and designer style booths we feature many styles of commercial booths so you can find the one that best fits your environment.
Call today to learn more about our restaurant booths: 1-866-732-8123