Restaurant Stacking Chairs
Restaurant Stacking Chairs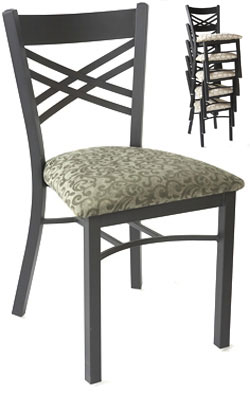 If you own a commercial establishment such as a restaurant, bar, hotel or banquet facility you will definitely benefit from having high quality stacking chairs. Space is at a premium in restaurants, bars and nightclubs and the more options you have for moving furniture the better. With our collection of durable and affordable discount stacking chairs you can easily set up and store high quality wood and metal chairs to accommodate large crowds and furnish private party banquet rooms. Featuring a wide variety of styles and colors the Seating Expert stacking chair collection is perfect for traditional and contemporary restaurant décor.
From stackable metal ballroom chairs to upholstered imperial side chairs we have a full selection of commercial stacking chairs to add versatile seating to your restaurant, banquet facility or church. Perfect for large dining rooms, outdoor patio settings and reception halls our stacking chairs are durable and functional so you can outfit commercial dining areas with high quality chairs that will fit the décor and stand the test of time. Our popular Chiavari ballroom chairs are available in an assortment of fine finishes including black, gold, dark mahogany, silver and white and make great additions to banquet and reception rooms. You can also accessorize Chiavari stacking chairs with cushions that come in a great selection of colors including burgundy, hunter green and ivory.
For outdoor use including terraces and patios choose from either high quality wicker or aluminum stacking chairs to provide comfortable seating. Our sturdy aluminum patio chairs are made with commercial grade aluminum and can be used both indoors and outdoors. For a more traditional look and feel choose from our great selection of wicker and aluminum stacking chairs available in tan, black and burgundy wicker to provide a fine contrast with the polished aluminum frame. With stylish and durable stacking chairs you will be able to expand your dining services and keep all your patrons comfortable.