Restaurant Chairs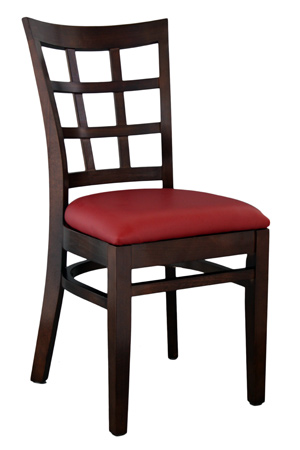 Next to high quality dining tables the most important piece of furniture in a restaurant is the chairs. Whether your look is rustic and traditional or polished and contemporary you'll need high quality restaurant chairs that fit your décor to give patrons plenty of options for comfortable seating. At Seating Expert we offer a terrific selection of sturdy wood and metal restaurant chairs that can be used in waiting lobbies, main dining rooms, bars and banquet rooms. With great discounts on a variety of high quality chairs including Colonial, Windsor and Bentwood designs you can furnish your entire restaurant at an affordable cost.
The chairs you choose for your restaurant will go a long way in creating loyal customer retention. Smart managers who have experience in the restaurant industry know that no matter how good the food is, if people aren't comfortable they won't recall having a good time. At Seating Expert we know how important it is to create an appropriate and relaxed atmosphere at restaurants, bars and other commercial establishments which is why we offer so many different styles of restaurant chairs for you to choose from.
For traditional steakhouses and casual bar and grill restaurants choose from our wide selection of high quality wood restaurant chairs that include side chairs with upholstered seats, ladder back arm chairs and stackable Imperial chairs. The polished look of finished wood in a number of popular colors including walnut, dark mahogany and cherry provides a great accent for traditional restaurant décor and you'll find many high end and casual restaurant chairs in our wood category.
For more modern restaurants and places with lounges and bars choose from a great selection of metal chairs that feature high polished metals and your choice of fabric or vinyl upholstery to custom match your existing décor. You can also select from a great selection of chrome and aluminum restaurant chairs that add a contemporary shine to sushi bars and martini lounges.
If your restaurant includes a terrace or outdoor patio enjoy shopping our wide variety of outdoor patio chairs including aluminum and wicker patio arm chairs and stackable rattan patio chairs. Made to last, our outdoor patio chairs are comfortable and can also be used indoors for additional seating during crowded evenings and banquets.