Restaurant Bar Stools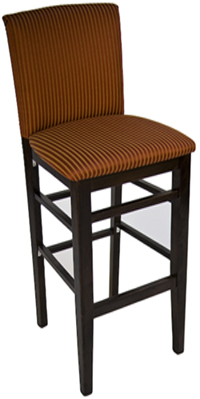 If you're looking to outfit a commercial restaurant, bar or hotel lobby look no further than the Seating Expert. We offer an amazing selection of high quality bar stools at discount prices you won't find anywhere else. From traditional wood bar stools to more contemporary metal and aluminum bar stools we have a style to suit any theme or décor. Whether you're opening a brand new restaurant or simply want to change the look of an existing eatery trust in the Seating Expert to supply you with comfortable, affordable and durable restaurant bar stools.
Within our commercial bar stool section you'll find terrific bar stools conveniently sorted in easy to find categories including bar stool types, bar stool designs and bar stools by purpose to make your shopping even easier. You can also search our extensive restaurant bar stool selection by material where you'll find a great selection of wood, metal, rattan, stainless steel, wrought iron and chrome bar stools that will add comfort and style to your commercial dining establishment.
No matter what type of restaurant you plan on operating we have the right bar stools to match. From high end and chic sushi bars to traditional grill and pubs you'll find outstanding restaurant bar stools at wholesale prices in our expanding inventory. Choose from a wide selection of side, arm, stacking, folding, swivel and backless bar stools to suit your clientele and theme. We also have the option to add upholstered fabrics to your bar stool seat and back for added comfort and style. Whether you need adjustable height bar stools for a restaurant lobby or counter and bar height bar stools for a restaurant bar the Seating Expert has the right commercial bar stool to suit your needs.
In addition to terrific indoor restaurant bar stools the Seating Expert also offers a full range of bar stools by purpose including outdoor patio bar stools, dining and banquet room bar stools, institutional bar stools and gaming bar stools. Don't waste your time searching overpriced commercial seating at liquidators, visit the Seating Expert today and get all the bar stool seating you need for your traditional or contemporary restaurant.