Patio Bar Stools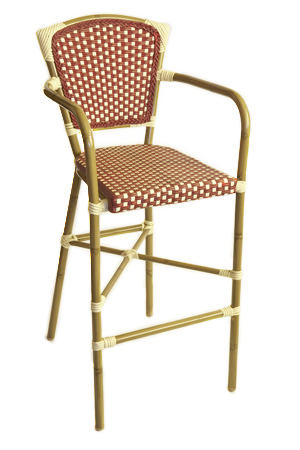 If you operate or manage a restaurant, café or bar in temperate climates or do business in the summer chances are you've thought about adding a patio or terrace to your layout. Scenic with a delightful ambience outdoor seating for a nightclub, lounge or pub is a great way to add a special touch to your commercial establishment and if you really want to make your patio section a hit shop the great selection of patio bar stools at the Seating Expert. We offer a terrific selection of contemporary and traditional outdoor bar stools in a wide variety of styles to match your existing décor.
Outdoor patios for restaurants, clubs and bars give a whole new dimension to your place and allows for morning, afternoon and evening hours so you can cater to a more diverse clientele and increase your profit margin. At the Seating Expert we feature an outstanding selection of outdoor patio bar stools in high quality frame materials including aluminum, wicker, bamboo, resin and rattan to match your existing décor. Our superior inventory has custom matches for traditional Italian outdoor dining and more chic upscale cosmopolitan martini lounge settings.
At the Seating Expert we cater to the commercial market and can offer great bar stools at wholesale prices so you can outfit your entire patio and stay within your commercial furniture budget. Not only do our patio bar stools make for great outdoor seating but each can also be used indoors for Tiki bars, special theme partiers, banquet facilities and as extra seating when crowds arrive. Versatile, comfortable and affordable our selection of patio bar stools will prove to be a wise investment for your restaurant business.
Our selection of outdoor bar stools come in great colors to match specific patio settings including burgundy, brown, black and green. You can also choose polished aluminum bar stools and a mix of aluminum and wicker to custom fit particular décor designs. Featuring comfortable contours, solid frames and chic designs our collection of patio bar stools will serve your outdoor setting for years to come.