Outdoor Restaurant Chairs
Outdoor Restaurant Chairs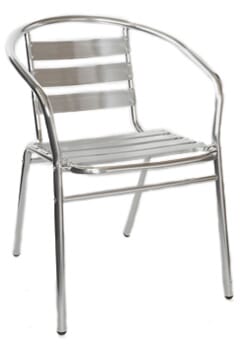 If your restaurant has the luxury of a patio or terrace take advantage of warm weather by offering patrons the option of dining outdoors. When you furnish your outdoor sections with our high quality commercial restaurant chairs you create a comfortable and welcoming atmosphere that is perfect for dining and cocktails. At Seating Expert we offer a terrific selection of traditional and contemporary outdoor patio chairs that are stylish and durable. From aluminum patio chairs and aluminum and wicker side chairs to polypropylene folding chairs and stackable bamboo chairs we have the right commercial seating to outfit all kinds of restaurants, cafes and bars.
When furnishing outdoor patios and terraces for commercial use you need to consider style and practicality. Dining outdoors in warm weather is a great experience but only when the seating is comfortable and fitting. Simply putting out plush dining chairs won't necessarily fit the mood and if light rain should fall you could cause permanent damage to the fabric. When choosing outdoor restaurant chairs consider materials that are conducive to outdoor use including aluminum, rattan and wicker. We offer a wide variety of traditional and contemporary outdoor patio chairs at wholesale prices so you can furnish your entire outdoor space with high quality commercial chairs.
Before you start shopping for outdoor restaurant chairs consider what the chairs will be used for. Will you be offering guests outdoor dining, lounge areas or a small terrace for cocktails? You want your commercial chairs to suit the occasion and when you know ahead of time the floor plan for an outdoor patio you can easily select the right chairs. Great for casual dining at restaurants and cafes our contemporary aluminum chair is a solid choice. Made from waterproof and UV resistant aluminum this versatile and durable outdoor chair fits in almost anywhere and will provide years of comfortable seating.
If your restaurant or café features a garden-like setting consider our armless rattan chairs that are weather and UV resistant and come in a great selection of classic colors including black, Bordeaux, dark green and tan to match existing outdoor restaurant décor. Armless rattan chairs can be used for dining as well as casual lounge seating and offer patrons a solid and stylish seating option while enjoying nice outdoor weather. Be prepared for any outdoor occasion by stocking up on stylish outdoor restaurant chairs from Seating Expert.