Modern Restaurant Chairs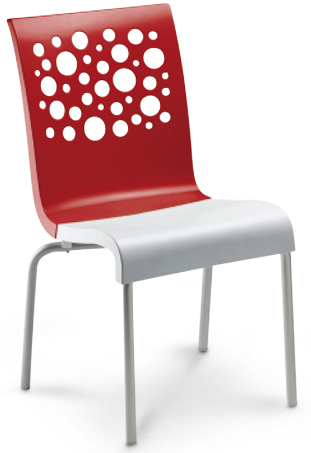 When you're looking to furnish a modern restaurant, swank martini lounge or upscale hotel lobby look no further than the amazing collection of modern restaurant chairs at Seating Expert. Comfortable and affordable seating plays a major role in the success of your establishment and when you shop the wholesale dining chairs at Seating Expert you not only get high quality craftsmanship and style but affordable prices that keep your expenses under budget. We feature a terrific selection of contemporary designer chairs that can be used for restaurant dining, bar seating and lounges so your patrons experience the ultimate in comfort.
For upscale lounges and swank bars consider our fashionable Serpentine dining chair that is made from shatter resistant ABS plastic and coated in four colors including black, green, red and white. These stylish restaurant chairs can be stacked easily so you can adjust seating on the fly and 250lb safety rating makes these chairs ideal for restaurants and bars. The modern curves and contemporary style of the Serpentine chair is perfect for restaurants that feature modern cuisines or lounges that cater to a hip crowd.
Just as exotic and equally as comfortable is our Galaxy dining chair that combines traditional comfort with futuristic design to create and out of this world restaurant chair your patrons will love. Made from formed matte propylene this cosmic style chairs comes in green or white and can be stacked six chairs high for convenient storage. Ideal for restaurants that cater to a younger clientele or cafes and lounges that want a more exotic look the Galaxy restaurant chair is a fun piece of commercial furniture that will stand the test of time.
If you still want modern but don't want to be too avant garde consider our Zurich restaurant chair that offers a careful blend of contemporary design with traditional resin materials for a sturdy and stylish dining chair. Able to be used indoors or outdoors, our Zurich chair features a two-tone color scheme that offers choices of beige and taupe, black and white, fern green and white or orange and white for spectacular shades that are ideal for casual restaurants that offer fusion cuisine. No matter what your tastes are we're sure you'll find the perfect modern restaurant chair at Seating Expert.