Discount Bar Stools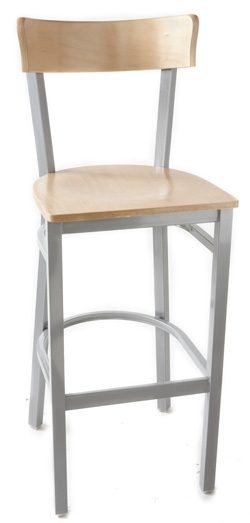 When you manage or operate a restaurant, hotel, bar or nightclub you know all about costs. From cuisine and beverages to insurance and furniture it's not cheap to keep commercial eateries and pubs in business so when it comes to finding high quality discount bar stools look no further than the Seating Expert. We offer an amazing selection of traditional and contemporary bar stools at discount prices so you won't have to sacrifice style or quality when outfitting your café, hotel lobby or lounge.
At the Seating Expert we cater exclusively to the commercial market so we can offer high quality discount bar stools at affordable prices when you order in bulk. From cafes and lounges to large restaurants and chain hotels we serve a wide variety of commercial businesses that know the value of discount seating. We feature a wide variety of traditional and contemporary bar stool styles including ladder back, backless, swivel, adjustable, side, arm, stacking and folding commercial bar stools to match your particular theme and décor.
Choose from a great selection of high quality bar stool frame materials including metal, chrome, wood, aluminum, wrought iron, stainless steel, teak, bamboo, resin and wicker to match your restaurant or bar motif. Available in a terrific array of styles including retro, European, Windsor and Colonial we have the perfect bar stool to fit your unique style and taste. From upscale martini lounges to down home pubs and grills you will find the right discount bar stool at the Seating Expert to fit your commercial business.
Because our discount bar stools are affordably priced, you can use the savings on custom upholstery to add unique style to your commercial seating. We offer a wide variety of upholstery options on select bar stool models including fabrics, laminates, custom wood finishes, vinyl and custom powder coating that will help accent the tone of your commercial bar, hotel lobby or nightclub lounge. At the Seating Expert we specialize in offering the highest quality discount bar stools so you can stock up and save and get back to the business of running your restaurant or bar.