Commercial Booths - 1-866-732-8123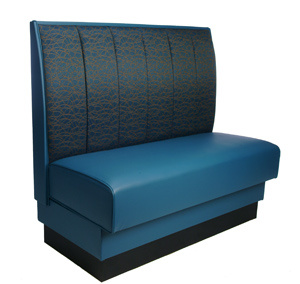 Booth seating is a great option for restaurants, diners, nightclubs and pubs. Available in a wide variety of styles and colors booths may be the seating you've been looking for. At Seating Expert we carry a terrific collection of high quality commercial booths including six channel, three channel, round tufted back and square tufted back booths to match your existing room décor. Available in attractive vinyl and fabric upholstering, our restaurant booths give you a high quality seating option that is both comfortable and stylish. With our huge selection, wholesale prices and 100% price guarantee there's no need to look anywhere else for commercial booths that will be appreciated by your patrons.
Restaurant Booths
One setting that is ideal for commercial booths are restaurants. Depending on the theme of your eatery you may want to furnish sections of your restaurant with high quality, comfortable and stylish booths. Setting up restaurant chairs near a wall can be uncomfortable for patrons and it's a lot easier to place booths along the walls to avoid having trouble with chairs. Our tri-sectional restaurant booths are a great option and come with your choice of vinyl or fabric upholstering in great colors including alabaster, burgundy, emerald and teal. Select from several booth shapes including single, double, L-shaped and ½ round to fit your existing décor and space. Easy to maintain our commercial booths are perfect seating options for traditional and contemporary restaurants.
Nightclub Booths
Another place that is ideal for commercial booths are nightclubs. While many clubs are set up for all-night dance parties you have to provide your guests with seating options so they can take a break and enjoy a cocktail with some friends. Instead of worrying about people moving chairs all over your club choose high quality commercial booths that are stationary and comfortable. Choose vinyl upholstering which makes it easy to clean up spills and won't leave stains on the booth. Commercial booths can also be used in nightclub lounges, entry ways and private rooms so guests have plenty of comfortable seating when they need to rest.
We'll change your mind about how to buy restaurant furniture because if you work with us, you'll appreciate our high quality craftsmanship. Unlike other companies, SeatingExpert produce nearly all of our restaurant furniture in-house in New Jersey. Moreover, we'll ship your order directly to your new restaurant, bar or hotel with care.