Commercial Bar Stools
Are you having trouble finding comfortable, affordable and durable commercial bar stools for your restaurant, bar or hotel lobby? Then look no further than the fantastic selection of commercial bar stools at the Seating Expert. We specialize in supplying high quality commercial seating for many different businesses including pubs, cafes, schools, indoor and outdoor dining establishments and banquet facilities that need dependable bar stools for their patrons. With an incredible selection, discount prices and the choice of adding custom upholstery to specific models the Seating Expert is your source for high quality commercial bar stools.
At the Seating Expert we take pride in offering a wide selection of commercial bar stools for any setting. Shop our extensive inventory of wood, metal, aluminum, chrome, teak, rattan, bamboo, stainless steel, wrought iron and wicker bar stools to custom match your particular restaurant, bar or café décor. Select models can be outfitted with your choice of fabric or vinyl upholstering for comfort and style. You can also select from custom powder coat finishing and a colorful array of laminates to accent your bar stools they way you like. We have years of experience supplying many commercial businesses with outstanding bar stool seating and are confident we can help you find the best bar stools at the right price for your needs.
Tired of searching around confusing websites that seem to bait and switch you into buying what they want you to buy? At the Seating Expert we have a clean layout that can be navigated with ease so you can find the right commercial bar stools by purpose, design or type. You know your business better than anyone so come with your ideas and easily find the perfect bar stools to match your décor vision. Our stock includes great bar stools by design including retro, European, bentwood, Windsor, Colonial, bistro and 1950's style bar stools that will add style to your restaurant or bar and comfort for all your patrons.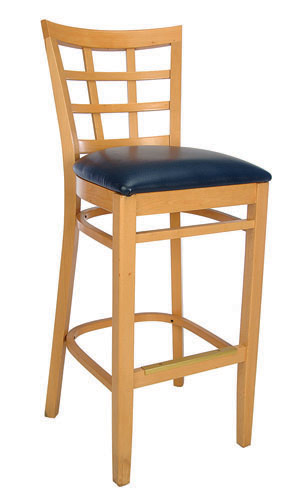 In addition to terrific restaurant and pub bar stools we also carry a wide variety of indoor and outdoor bar stools, patio bar stools, bar stools for schools, libraries and hotel lobbies and even banquet facility bar stools. From stacking models to swivel bar stools you'll find just about every type and finish you can imagine to custom fit your specific designs. Visit our commercial bar stool section today and solve all your seating needs with ease.