Church Chairs - 1-866-732-8123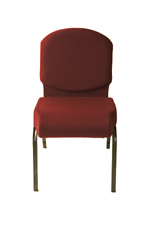 These day's churches offer more than just a house of worship. Schools, town committees and local clubs all use churches for meetings, pageants and social gatherings which is why it is important your church has affordable church chairs to handle the many guests you will have. At Seating Expert we offer a great selection of church seating including logo chairs, metal folding chairs and fully upholstered side chairs to furnish your church with the types of chairs that will be used throughout the year.
Being able to service the community is something all churches have in common. From weddings and school plays to local governments and even AA meetings, churches are safe places for groups to meet and with our high quality church chairs you can offer comfortable seating for any occasion. Our designer collection church chair comes in a great selection of colors including blue, black and green and features ganging clamp, a pocket in the back for storing books such as bibles and hymn books and has options for either silver or gold vein frames. This high quality church chair stacks easy so you can store a number of chairs in a supply closet.
For an added feature choose from our great selection of church logo chairs that prominently display your parish's logo on the upholstered chair back. This chair also features a book pocket in the back and has the option for adding a book rack as well. Choose from great colors including black, burgundy and brown to custom match your church interior and go with either silver or gold vein frames.
Lastly, if you need help selecting church chairs, we would love to help you. Seating Expert have over 13 years of experience servicing churches and religious centers nationwide. Simply give our seating experts a call: 1-866-732-8123