Choosing Restaurant Chairs
Choosing Restaurant Chairs - 1-866-732-8123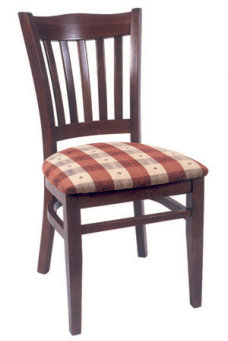 Whether you're opening a new restaurant or upgrading the seating in an existing place you will want to be careful in selecting restaurant chairs. The restaurant furniture industry is full of many different kinds of chairs including high end upholstered chairs and simple metal folding chairs and before you make any decisions on what chairs will suit your restaurant best, know who you are catering to and the décor of the place to find the best match.
In planning the seating décor for a restaurant take some time to think about the menu and who you will be catering to. If your entrees are between $12 and $15 and your crowd is casual you will want restaurant chairs that are simple and durable. Having fancy upholstered chairs in a diner or moderately priced Italian restaurant doesn't make much sense and will look out of place. Simple metal chairs such as ladder back and kidney side chairs that can have contoured seats or simple fabric or vinyl upholstering are ideal for restaurants that offer casual cuisine that is priced under $25 per person.
If your restaurant is a high end establishment that serves fancy French cuisine with entrees in the $45 to $65 range then you can splurge on plush restaurant chairs that will fit the menu prices. Restaurants that achieve 4 and 5 star ratings often have durable yet sophisticated wood chairs that are well made and have traditional design elements to match elegant interior décor. When your menu features gourmet fare and expensive delicacies count on patrons spending more than an hour dining so it's important to furnish these types of restaurants with high quality and comfortable chairs that not only look right but also offer customers the comfort they need to enjoy a fine four course meal.
If your restaurant will include an outdoor dining area such as a garden terrace or patio you will want to invest in versatile restaurant chairs that can be used outside. Buying durable materials such as aluminum for casual restaurants and wrought iron for more upscale eateries is a wise decision to outfit your patio with fitting furniture that matches the theme of your restaurant. Choosing restaurant chairs is not something you want to rush just to get a good bargain. Take your time and consider the clientele and the ambiance of your restaurant before picking out the right chairs for your place.
Lastly, if you need help selecting restaurant chairs, we would love to help you. Seating Expert have over 13 years of experience servicing restaurants, bars, and hotels. Simply give our seating experts a call: 1-866-732-8123