Choosing Outdoor Bar Stools
Best Bar Stools for Restaurants - 1-866-732-8123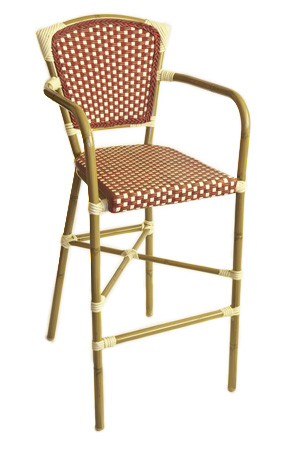 If your restaurant or bar has the luxury of an outdoor space such as a patio, pool area or terrace, be smart and use this to your advantage. By opening up your restaurant to these open-air spaces you increase the capacity of your place and can ring up higher profits each night.
However, when furnishing these sections you need to be careful so you mix the right outdoor bar stools with the right theme. Commercial patio bar stools come in many sizes, shapes and materials so before you buy anything, consider some helpful tips from Seating Expert.
Weather Resistant: The first thing you need to decide is if the bar stools will be left outside. If so, then you need to find a material that can withstand light wind, rain and intense UV sunlight. Wood is not a good choice for outdoor use since it can very easily warp, peel and rot in mild weather conditions and you will be stuck paying for a whole new set. Look for durable materials such as wrought iron, aluminum and chrome that can hold up under the weather.
Find the Right Look: If your restaurant is modern and caters to a young and hip crowd, you will probably want to look for bar stools that are made from shiny chrome or stainless steel. If you eatery features Asian fusion cuisine or Polynesia fare, then you may want to match the theme with rich wicker, rattan and bamboo bar stools. Take a moment to figure out what your restaurant stands for and who you cater to before you select commercial bar stools.
Comfort for the Occasion: Because restaurant bar stools come in so many styles it is important to find stools that will match the occasion. Some bar stools are convenient for eating at a pub table while others are better suited for drinks at a café table. If the stools are not conducive to the environment you will end up with uncomfortable and unhappy clients. Seek out bar stools that will offer the most comfort for the situation.
For expert advice on choosing bar stools, call: (866) 732-8123