Choosing Booths for Restaurants
Choosing Booths for Restaurants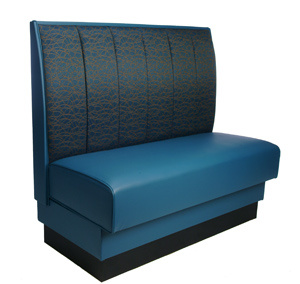 If you own or manage a restaurant and want to improve the look and feel of your establishment, comfortable commercial booths are a great option. Instead of spending excessive amounts on a complete re-design consider areas you can upgrade the furnishings in your restaurant without spending a fortune. Seating is an important part of any restaurant and if you have the urge to change anything in your eatery consider stating with the chairs. Depending on the layout of your restaurant you may have plenty of wall space that can be used to place comfortable and stylish booth seating. Finding booths that are right for your restaurant style and theme can take some time so be patient and only buy when it feels right.
Clientele
Before you select commercial booths for your restaurant take some time to determine who your clientele is. It doesn't make sense to buy expensive restaurant furniture if the mood is casual and the crowds include children. If you anticipate spills, bumps and banging while your restaurant is open then you should look for booths that are capable of handing heavy traffic and rough handling. Most vinyl and fabric upholstered restaurant booths will be made for the commercial industry so you can count on the booth standing the test of time. Also, if your restaurant caters to a high end clientele you will want restaurant booths that exude a classy and formal ambiance to match the cuisine and theme.
Traditional or Contemporary
When you know the type of customer your restaurant attracts the next step in choosing restaurant booths is to decide whether you want classic style booths or more modern looking booths. When you are in the market for traditional booths don't forget to include retro-style 1950's diner booths that have a chic and classic feel that works well in many types of restaurants. If you are planning to upgrade the look and feel of your restaurant seating and want booths that can help achieve this, look for modern commercial booths that feature cutting edge designs, vibrant colors and tufted backs. Finding the right booth style, whether it's traditional or contemporary, will make upgrading the furnishing in your restaurant easier and more fitting.
As a restaurant owner, you know how important it is to maximize your investment in restaurant furniture. If you're looking for quality restaurant furnishing, you owe it to yourself to contact SeatingExpert today because we'll give you the lowest price guaranteed on the Internet.