Best Restaurant Chairs - 1-866-732-8123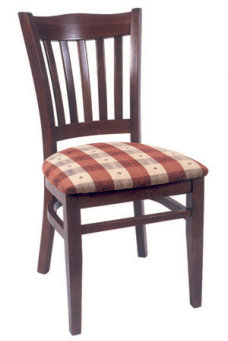 When furnishing a restaurant you need to play close attention to the chairs. Just as important as the food and ambiance, the furniture you select for your guests will go a long way in determining whether or not they return to your restaurant. No matter how good the service is or how fine the cuisine if the furniture isn't comfortable chances are patrons won't be too pleased with the experience. At Seating Expert we feature a fantastic selection of restaurant chairs including elegant and formal wood chairs and more modern and sleek metal chairs to furnish your traditional or contemporary restaurant.
Restaurant Seating
The best restaurant chairs are those that are affordable, durable and match the unique interior décor of your eatery. Of course, restaurant seating also needs to be comfortable since some diners will be spending at least an hour enjoying their meal and it is important that the chairs they have are designed for maximum comfort. At Seating Expert we offer a terrific selection of wood and metal restaurant that can be ordered with your choice of fabric or vinyl upholstering that features a soft cushion on the seat and seat back and a wide variety of colors to match your existing décor.
Discount Restaurant Chairs
When buying restaurant chairs it's good to look for a commercial furniture supplier who can offer great products at wholesale prices so you can furnish your entire restaurant without breaking the budget. Shopping online gives you the chance to compare prices from different suppliers so you can find the best offer that will give your place the high quality seating you need. At Seating Expert we have a tremendous selection of traditional and modern restaurant chairs that will not only improve the look of your place but also give customers comfortable seating.