Best Restaurant Booths - 1-866-732-8123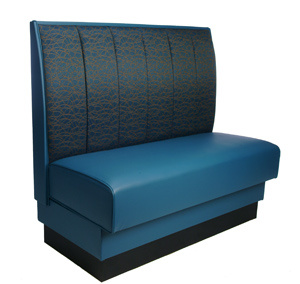 When you want the best restaurant booths for your diner, pub or café check out the wide selection of commercial booths at Seating Expert. We feature wooden booths, contour booths and upholstered booths in many styles and colors to match the existing décor of your restaurant. Whether you're looking to create a classic 1950's diner style feel or a more contemporary lounge atmosphere, Seating Expert is your online source for the best in restaurant booths.
Upholstered Booths
For the best in comfort and style browse our wide selection of upholstered commercial booths. From standard style and round back to 3 tuft and wood panel with head roll, we have the right booth to suit your restaurant's theme and décor. Great for casual seating, our six channel booth with head roll is available in several styles including single, double, ½ round, ¾ round and L-shape to fit your specific needs. Choose from great vinyl upholster colors including black, emerald, imperial blue, plum and snow for exquisite style. Custom sizes and designs are also available so call us today to get the best booth for your restaurant.
Wooden Booths
Solid wood booths with padded seating make for a classic and comfortable seating option in any type of restaurant or bar. At SeatingExpert.com, we feature a great selection of wooden booths that are both sturdy and elegant. Our wood booths can be ordered in your choice of wood stain that includes terrific colors including black, cherry, dark mahogany, natural and walnut. Accent wood stains with vinyl padded seats that are available in many color options including aqua green, blueberry, golden rod, mandarin orange, peach and sand. Wood booths are great seating options for bars, pubs and lounges and will give your customers all the more reason to stay longer.
Contact Seating Expert today for great deals on restaurant booths.