Booth Seating for Restaurants - 1-866-732-8123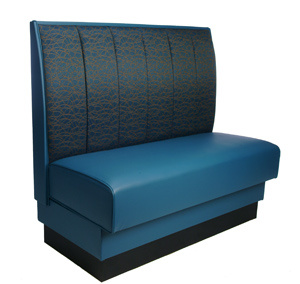 When working in the restaurant industry it is important to keep the customer's comfort in mind at all times. No matter how good your food is or how prompt the service it won't matter much if your patrons are squirming around on uncomfortable chairs and bar stools that are poorly constructed from cheap materials. People dine out for the ambiance, the specific cuisine you serve and the chance to be waited on and feel pampered. This is hard to do when using poor restaurant seating options.
At Seating Expert we focus on one thing and one thing only: high quality seating. In our expanding online showroom you'll find a terrific selection of restaurant chairs, bar stools, sofas and ottomans to furnish your restaurant, pub or cafeteria. But we also carry a full selection of commercial booths that will immediately improve the look of your room décor and give your loyal patrons seating options that have superior comfort and cutting-edge style.
Types of Booths
Because there are so many different types of restaurants we carry a wide selection of wholesale commercial booths. From casual diners and pubs to upscale seafood restaurants and 5-star formal eateries you'll find plenty of types of dining establishments and it's important to match your booth seating with the theme and décor of the room. We have wholesale commercial booths made from European beech wood, booths with vinyl and fabric upholstering, contour booths and designer booths that feature round back and square back frames. We also have three channel-back laminate trim booths with comfortable head roll that is trimmed with a laminate of your choice.
Where Booths Work Best
If you're considering adding high quality, stylish and comfortable commercial booths to your restaurant, make sure this type of seating fits your place. Booths can't be moved so if your restaurant is constantly changing table layouts then commercial booths might not be the best option. However, if your restaurant is casual, welcomes children and has the space near the walls to incorporate booth seating then our expertly crafted commercial booths will fit in perfectly.
For more information about our booth seating call today: 1-866-732-8123